And how to stay safe…
Want to come to Australia but feel afraid of all the things that might kill ya? I've put together an accurate list of the real risks cos while there are heaps of exciting and wild things to see and do here, most won't kill you! In reverse order of most likely to harm…
6. Tornado of Fire | Zero chance
A towering inferno of fire that whirls around the outback where you happen to be bushwalking does sound scary, but these events are so rare many Australian's don't even know about them. In fact Chris Tangey, who recorded one on September 11 2012, 80km East of Uluru Australia is a bit of a freak because not only was he in the right place at the right time — he had is camera setup and ready, as he explains on his Vimeo channel:
One appeared right in front of me when I was already set-up and filming something else.
A fire tornado, happens about 19 times a year. Photo credit: Chris Tangey
In fact Chris Tangey, who recorded one on September 11 2012, 80km East of Uluru Australia is a bit of a freak because not only was he in the right place at the right time — he had is camera setup and ready, as he explains on his Vimeo channel:
One appeared right in front of me when I was already set-up and filming something else.
How lucky is that? So while the footage is spectacular the risk of this actually hurting you is low. You have a better chance of dying from jumping off a waterfall — that has actually happened to quite a few tourists unfortunately.
5. Jumping off waterfalls or slipping from cliffs | 1 death pa
Unfortunately since that advent of social media and the never ending pursuit of the best photo of you on holidays these incidents on are on the rise in Australia. We have lots of stunning backdrops for Instagram fame and accidents happen.
Photo by Jeremy Bishop on Unsplash
In 2015 Zoe Woolmer, 23, fell 15 metres to her death from a notorious photo spot in the Northern Territory. Despite the warning signs her tour guide instructed her to step down onto a ledge to take a prank photo. She slipped and fell and even though she was still alive when rangers arrived about 50 minutes later, died soon after.
This was just months after a man died jumping from Hanging Rock Falls in NSW. And in 2016 a British man died jumping from Josephine Falls in Queensland. In 2017 a Korean tourist died after leaping from rocks into the Swan River at Blackwall Reach in WA, a popular but dangerous cliff-jumping spot.
4. Snake Bikes | 2 deaths pa
Australia is home to 21 of the world's 25 deadliest snakes. About 300 people are bitten by snakes in Australia each year but only 2 of those die. The Eastern Brown is the most deadly — accounting for more than half of the deaths from snake bite.
Image credit: David Clode, Unsplash
In January this year a 24 year old man was bitten on the finger in country NSW and died within an hour. That's how venomous the Eastern Brown snake is. If you get bitten what you do next could be the difference between life and death.
How to stay safe?
Firstly, avoid being bitten in the first place by staying away from snakes. Wear boots and long pants, and stomp loudly if you must walk through bush where snakes are likely to be present.
If bitten:
Bandage and immobolise the limb
Stay calm, if in a safe place with someone who can help you, don't move at all
Get help, call 000
Read more: http://www.abc.net.au/news/2018-02-23/what-not-to-do-if-you-find-a-snake-in-your-house/9473632
3. Crocodile Attacks | 3 deaths last year
Crocodile attacks are on the rise in Australia as the population is protected and growing bigger. In 2017 threepeople were killed by crocodiles:
Image credit: David Clode Unsplash
And many more were injured. While most deaths are locals, in 2002 one of the most horrific attacks killed 23 year old German tourist Isabel von Jordan, who was swimming with her tour group which included her 21 year old sister.
They trusted their guy and swam there on the advice of their guide (who received a three-year suspended sentence after pleading guilty to making a dangerous omission) despite signs warning not to swim due to crocodiles.
James Rothwell, 24, a British tourist in the group remembers the horror that followed:
We were about 10 yards out from the shore, all within sight and arm's length of each other…(then)…I felt a bang on my leg and seconds later heard a girl scream. And the girl went under the water….We got to the shore and shone torches on the water, (and) saw with the torches two red eyes going away from where the girl had just gone under.
How to stay safe?
Observe crocodile warning signs!
If you're in an area where you know salties are present — or likely to be — such as in estuaries — don't swim. Especially at night.
If you are camping — stay away from the water's edge and don't leave food waste around.
Read more: http://www.outback-australia-travel-secrets.com/crocodile-attacks.html
2. Drowning | 291 deaths last year
The Australian coast is beautiful and looks inviting. Most of it is pretty safe but there are lots of places where it simply isn't safe to swim. Fingal Head is one such death trap, where good, local swimmers drown while attempting to save visitors who are in trouble. These notoriously dangerous waters continue to attract swimmers despite the warning signs.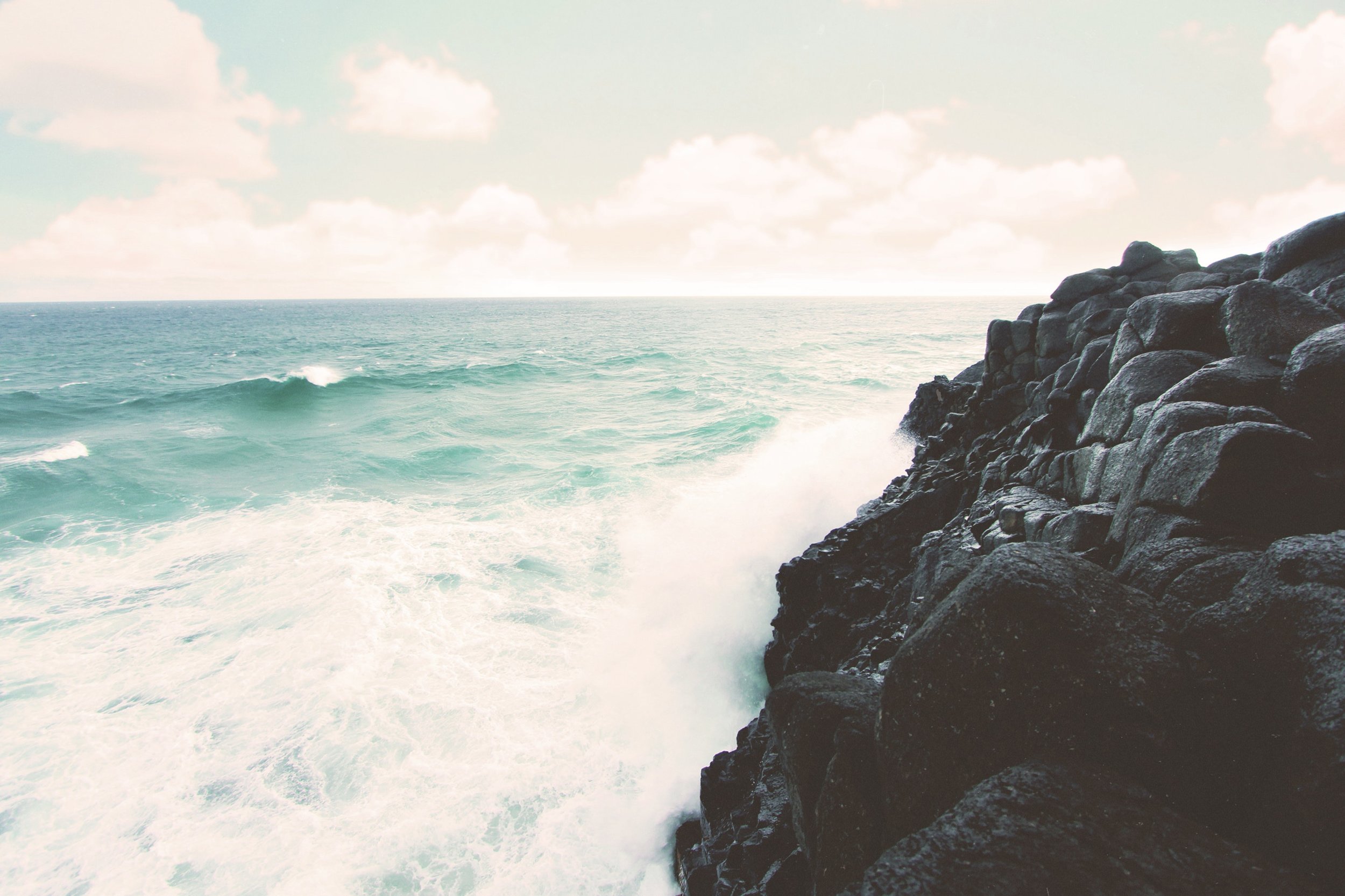 Fingal Beach — one of the most notorious beaches for drownings in Northern NSW. Photo Credit Zachary Staines | Unsplash
A 22-year-old tourist drowned at Fingal in February this year — swimming at the unpatrolled beach in rough surf. In 2017 a bodyboarder drowned there and two of the saddest recent rescues were there in 2016 and 2015 when good samaritans drowned while rescuing kids who got into trouble in the surf there. In March 2016 a 10-year-old tourist was caught in a rip and rescued by Ryan Martin, who then got into trouble in the water and drowned. In October 2015 Aggie Auelua drowned when trying to save a 9-year-old boy at the same spot.
Despite warning signs many visitors wade into dangerous waters and drown on Australian beaches and rivers. Every year almost 300 people drown. 75% of those who drown are men — who are more likely to be affected by alcohol or swim out further and less likely to ask for help until it is too late. Most of the people who drowned were aged between 25 and 34. 65 international visitors drowned here last year.
Rip currents are believed to have been a contributing factor in approximately a third of the coastal drowning deaths, almost four times higher than last year, with 58% of summer coastal drowning deaths occurring more than 1km from a lifesaving service.
Read more: Surf Life Saving Australia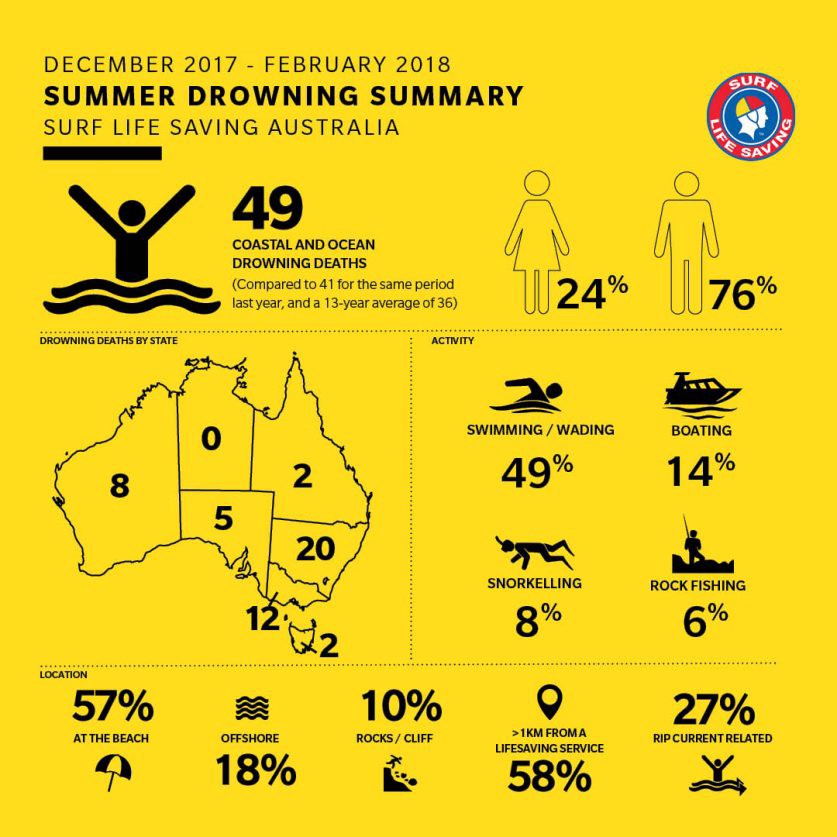 How to stay safe?
At the beach — if you don't know how to swim don't go into the water, if you do — only swim at a patrolled beach, between the red and yellow flags and obey the safety signs
Wear a lifejacket while boating, rock fishing or paddling and don't drink alcohol
Supervise children at all times in, on and around water — most toddler deaths are in backyard swimming pools.
1. Car accidents | 1000 deaths pa and many more seriously injured
The Great Ocean Road is one of the best places to experience a road trip in Australia but according to VicRoads, 21 per cent of crashes along it were caused by international drivers. More than 1000 people die each year on Australian roads and international visitors made up 65 of those last year, making this the biggest threat.
Royal National Park, Sydney — popular self-drive destination, Image Matthew Kane, Unsplash
According to Ms Henderson whose electorate includes the Great Ocean Road:
On a weekly basis, we are hearing of incidents involving international drivers on the wrong side of the road, stopping in the middle of the road taking photographs of koalas … [and] running through stop signs
Read more: http://www.abc.net.au/news/2018-01-02/tourists-should-prove-driving-skills-to-help-cut-road-toll:-mp/9297088
Of course there's also stonefish (which I'm most scared of as I love wild swimming), sharks, spiders, cone shells…I'll update this for some of those when I get to it.